Clemson's Bursar's Office Accepts Straight Cash, Homie

- In the first completely non Big 10, non Ohio State story ever on this blog, Clemson recruit Kenneth Page has told Tommy Bowden that he would rather not take up a scholarship and would rather pay for his tuition straight up.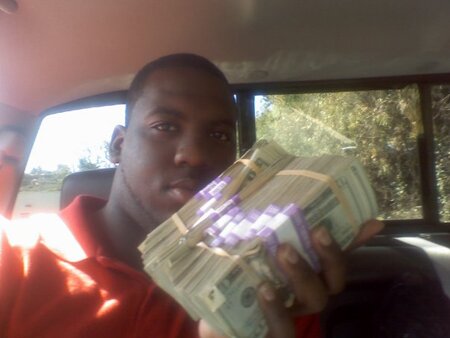 Kenny has been working hard this summer, says his mom, mowing lawns and slingin' rock.
Stay Classy, Michigan
-
Every Michigan blog in the land has taken its shots
at Justin Boren and his decision to leave Michigan for reasons including 'lacking family values' and 'running back to the line of scrimmage'. Fans and bloggers will take their shots, but Boren may have the last laugh if he
walks on at Ohio State over a scholarship at Michigan
. DickRod, Bo isn't happy!
Maize n Brew thinks its funny that offensive lineman are fat and like donuts...and their lone returning STARTER on offense, Steve Schilling, got manhandled by Vernon Gholston. Ha!
Hacks with Computers: The Musical
- I'm not a professional writer. I don't try to be. I don't get paid. That's why I can take shots at hacks that do get paid to write garbage.
John L. [Smith] Crawford of the Fernandina Beach News Leader
thinks that Florida is good and Ohio State is bad. Chances are, when your paper's name is the "News Leader", they are actually a ways off.
"Welcome to college football, Terrelle. Enjoy four years of inflated rankings and no rings ..."
John L. wishes Terrelle Pryor luck in college, or is fat prick disguised as a writer. He also thinks the SEC should be tremblin' in their workin' boots because the new clock changes in college football will allow Florida to run 10 more plays per game, on top of the 70 per game they ran last year. He pulls this number, 10 plays, off the top of Florida's OC's head. Which is great for Florida, unless that extra time created by Florida running the
no huddle offense creates more plays for the opposing offense
. Man, I'd had to see Michigan with 10 more plays against Florida...and
that's just Michigan
.