From the 'Forty Times are All That Matter' department:
Looks like Urban Meyer is willing to give a full scholarship for any UF student that can beat Percy Harvin, Deonte Thompson, Louis Murphy and Chris Rainey in the 40-yard dash. They call it a "speed challenge" and ESPN busted a nut in anticipation of showing it along with the Florida spring game. [The Ohio State spring game is broadcasted on the Ohio News Network, Florida gets ESPN.]
While full details have yet to be worked out, Meyer said that on Thursdays of spring practices, which begin March 19, strength coaches will be out on the practice fields and students will be invited to come out and train. The entrants will be whittled down to one lucky contestant who will face Harvin, Thompson, Murphy and Rainey in front of a packed Ben Hill Griffin Stadium.
The Independent Florida Alligator
So Florida is willing to throw a student on the team if he is faster than the 3 figures of SEC speed. Didn't the Tampa Bay Buccaneers try that? How does this relate to Ohio State? Not at all, actually.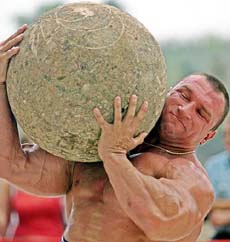 Jim Tressel's Head is proposing the opposite. Let's have a contest at the Scarlet and Gray game, and name it the Fullback Challenge. They want speed, we want guys that can knock over the trees they are as slow as. You could argue that Tressel has gone away from the traditional I-back sets to a more wide open scheme, especially since he has no fullback currently on scholarship to play the position. Aram Olson is out for the year on a Medical RS and Jemil Martin is only a Buckeye on a piece of paper.
The contest: Any student can earn a scholarship by participating in the Scarlet and Gray strong man competition. Have a bunch of 6'-6' 3" 250-27lb guys (or girls, no prejudice here) come into Ohio Stadium and take turns trying to push over cars and throwing boulders 10 meters. Or we could just put Beanie and Saine back there and try that.
As for the Florida try out, unfortunately Morgan Trent is currently on scholarship at Michigan. Yes, that slow, prodding Michigan team who Ohio State handles year in and year out. And if you think Trent had the angle on him, please go back to 6th Grade and study trigonometry.