Congrats to the Buckeyes Men's Basketball

NIT Champions: I'm seriously
pumped...seriously.


1% of America heard that Ohio State won the NIT, but 99% would have heard about it if they lost.


Thus is life.


Only at Ohio State is 4 RBs a Problem
: Beanie, Zoom, Boom, and Mo. Not the 4 Stooges, but the Ohio State running backs for the 2008 season. While USC and LSU stockpile 4 and 5 star recruits,
the Columbus Dispatch goes silly just wondering
how they will all get touches.


Hey coaches, I'd listen to Beanie Wells: "Get 'em all on the field".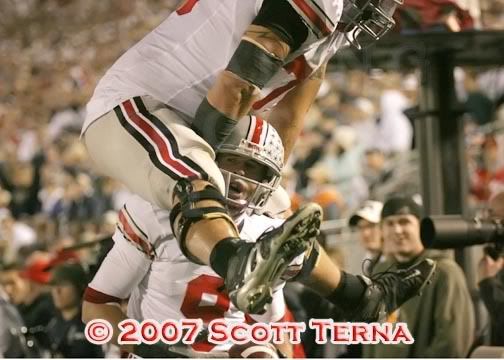 Depth Only Counts if it Makes it Through Spring
:
From the sonofabitch department
, The
Columbus Dispatch also would like you to know that super recruit Mike Adams is out for spring. 6'8" 310lbs of O-line muscle is better healthy than hurt. Expect him to be back for the season, but luckily freshman are for depth only.


You heard me,

Alex Boone

. No hurdling Brian Hartline


Blog Shots: Eleven Warriors
wants to borrow $1600
and counting to be the honorary assistant coach for the spring game (so do I). Maybe Lane Kiffin will throw up the booty...Around the Oval has the
Boeckman Meter
to gauge the point in time that Terrelle Pryor gets his name chanted by 105,000 fans (even the visitors)...Men of the S&G
warns that it will suck of Ohio State loses to Michigan
, even if we have Jason Bourne aka Justin Boren on our side (but tOSU won't so it's cool)...and Our Honor Defend promises the
book will be forthcoming after they get done posting the 20th "Better Know A Buckeye"
, all at under 300 pages.